Our kai moana specialties
Our popular kai moana/seafood dishes are enjoyed on any occasion, but if you plan to self-cater your event and want to add them to your table – we are happy to help here too.
Click the button below to see what kai moana we have available. Why not add some frybread or rēwena!
Why choose Tino Pai Kai Catering?
We offer a simplistic service and pride ourselves in offering traditional Māori kai. Our customers matter to us, and rely on our customer's feedback to help us be unforgettable and sustainable, just like our ancestors intended.
100% 5 Star ratings
See for yourself, check our Reviews!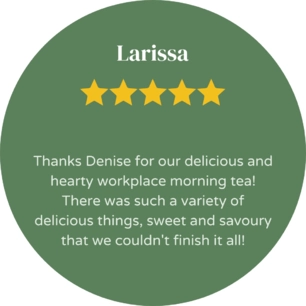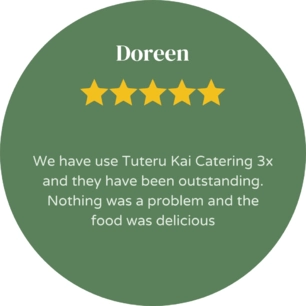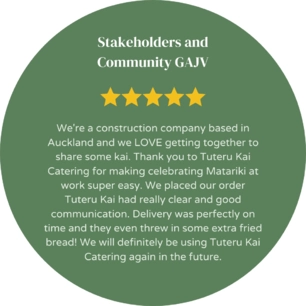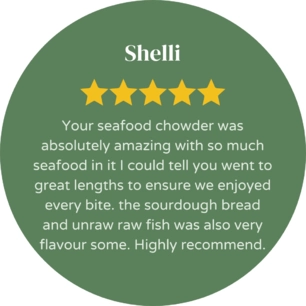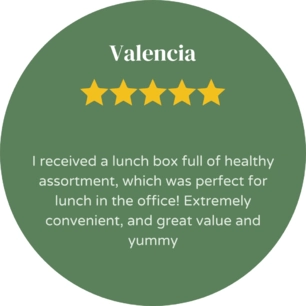 Please note:
We endeavour to provide what is pictured, listed, or requested, however, we do not stockpile product ingredients to ensure freshness, which may limit availability. Where this is the case items may be substituted with similar items which are of the same quality and value.
A minimum order of $250 +GST is required.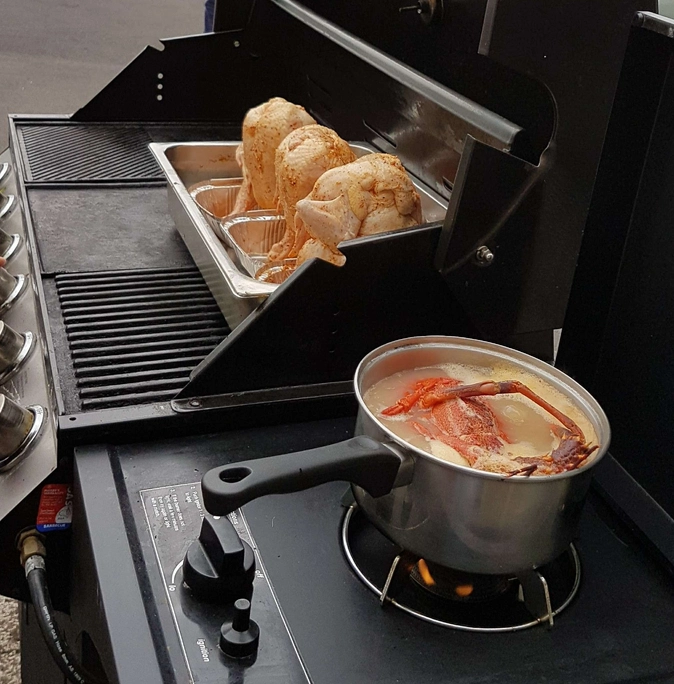 Catering to your catering needs
Hire us to cater to your catering needs, whether it's full catering service or service staffing, whether you have the equipment or we provide the equipment, we are versatile and affordable – we would love the opportunity to customise and accommodate a menu plan with you.
Work social club functions to personal and professional development gatherings, we have you covered. We can provide tasty quick eats such as BBQs and self-serve bites, the hakari/ event to impress – the options are unlimited.
If our platters, lunch boxes, or pick'n'mix menu options don't tantalise the tastebuds we are happy to work with you to customise a menu that will adapt to your event seamlessly.
Have a special event coming up, enquire about our grazing table, contact us for our hakari/event options.
We deliver to Tāmaki Makaurau central and suburbs.
Special acknowledgment!
There is a wonderful wahine toa who is responsible for the superb rēwena I make, you too can make your own by watching Lynda's Kai Love You on YouTube.
I managed to quickly develop my own rīwai/potato starter bug that's used for my rēwena. If you don't have time or the patience to make your own, you are in luck as Lynda McGregor is owner of the Little Bread Loaf Shop in Lower Hutt, so be sure you check out her page and online shop for the tastiest kai parāoa and other treats made with love.
"For as long as you have your starter bug, flour, salt, water and an oven you and your whanau will never go hungry".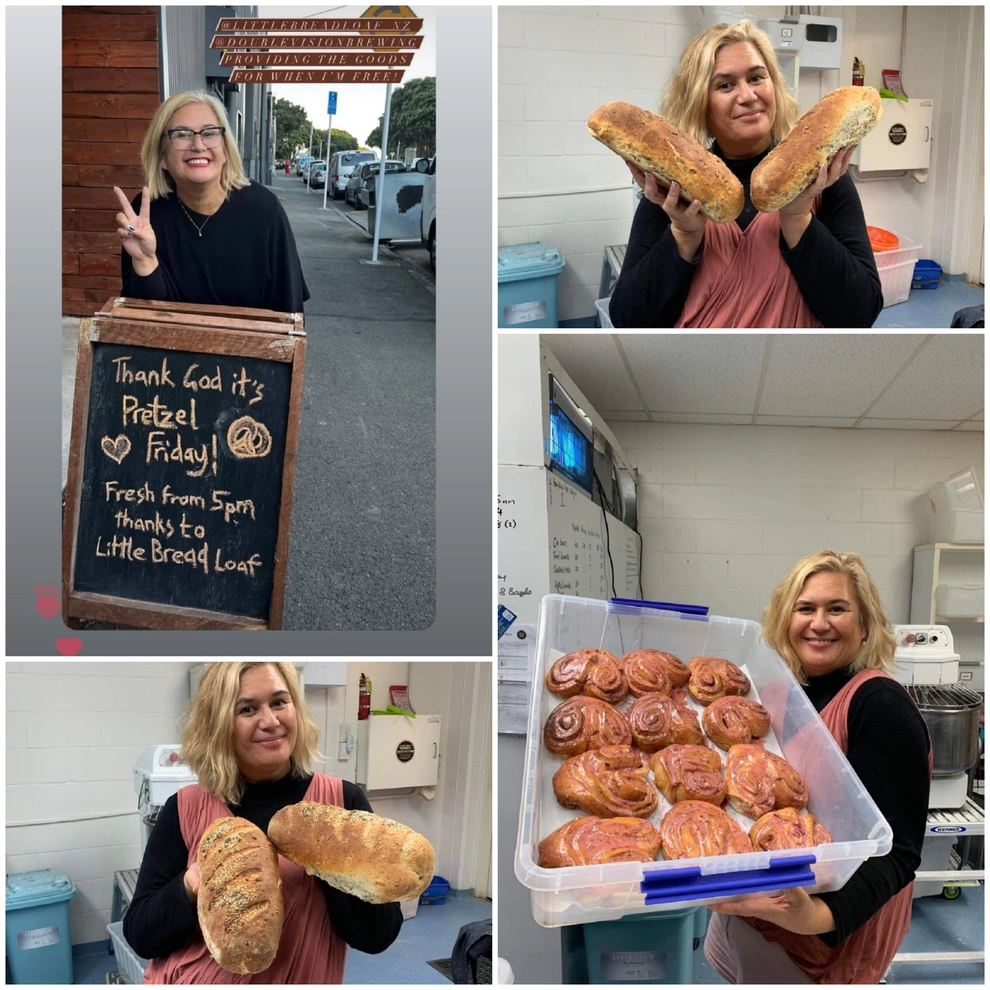 Frybread & Ika Mata feedback
"Thank you so much for the easy and delicious service!
Everyone loved the frybread and raw fish. You might be interested to know our guest speaker was Pio Terei was super impressed with the spread, so we sent him home with the left over ika mata, which he was stoked with!
I liked that it was served in a container for people to portion themselves, it meant that for those who had never tried it they could take a spoonful rather than having to take a full portion or not taking any at all". TMNZ – May 2022
Lunch Box feedback
"Our attendees absolutely loved it and thought that it felt very special to have their own packed lunch. It was also quite funny to see them swap and share their chips like kids in a classroom haha. We are an Autere buyer with Amotai and found you on their registry – you're the first business we've sourced from the directory and we're very happy with the results!" TSA – July 2022
Sustainability
With increased awareness of the environmental impact currently experienced worldwide, Tino Pai Catering are committed to being sustainably conscience with our Auckland event catering practices by:
Producing made-to-order products to limit the amount of food wastage.

Incorporating vegetarian and vegan/plant based meat alternatives as a normal part of our menu options – but don't worry there will still be some real chicken and beef servings for our meat lovers.

Provide our customers with eco friendly plates, utensils, and packaging (with the exception of food that needs to be kept hot during delivery) – please request on ordering.

Continue to look for alternative methods to improving work processes.
Special dietary requirements
Although we are happy to accommodate special dietary requests at no extra charge and we do our best to prepare food safely, we cannot fully confirm that traces of food allegens will not be present in the food that we prepare. If you suffer from any food allergens, please order from another food provider.
See below, for our allergen warning
Allergen Warning!
We practice safe food handling processes to keep our customers safe, however due to the nature of our business there is a chance of cross contamination with: gluten, dairy, egg, fish/crustaceans, soy, sesame seeds, mustard, nuts, legumes, celery, molluscs, lupin, sulphur dioxide – we do not recommend you order from us if you suffer from any other these allergens.
Changes, Cancellations & Refund Policy
Due to the nature of our pakihi, cancellations without 72 hrs notice will incur loss of full amount unless otherwise agreed – each situation will be handled on case-by-case basis.
We endeavour to work with our customers to come to a mutual agreement, and whereby changes and amendments are requested, we require a reasonable amount of time to be able to fulfil it.